Trip To GUADEC (Tuesday)
So, this is already the last GUADEC day, the time went so incredibly fast. This day is the GNOME User/Business day. We were up early again (which did hurt a little after the late night session the night before) since there was a small confusion regarding the schedule, but that went okay.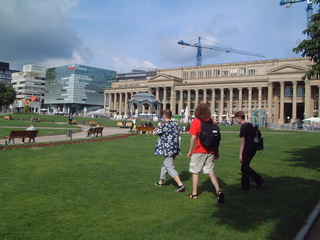 I visited the following talks:
Keynote speech by Dan Kusnetzky—Analysis of the growth, revenues, thoughts and trends around Open Source software.

GNOME

Meeting VoIP by Damien Sandras—Talk about the history, current status and future of this great VoIP application.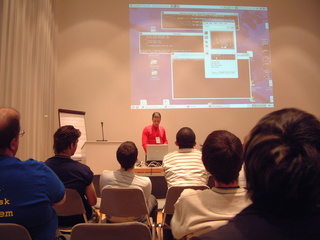 Keynote talk about Nathan Wilson—Insights into Dreamworks Animations switch to Linux and then the "

GNOME

desktop" bringing you nowadays Shrek 2, the just released Madagascar, etc. fully done using Linux and

GNOME

!
Nokia and Open Source by Yannick Pellet—Talk about Nokia's first experiences with Open Source software, the problems, the benefits, the plans (for more openness) and the maEmo platform used on the new Nokia 770.
Beagle by Jon Trowbridge—Talk about the "Desktop Search" technology/infrastructure for the

GNOME

desktop, current status and future plans.
101 Things to Know about

GNOME

by Glynn Foster—Wonderful and kinda different presentation of slideshows with music, some talking, GNOME's history, culture and people.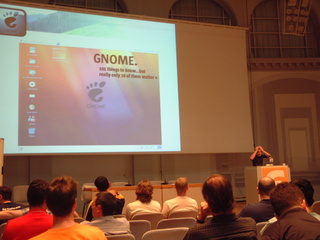 After these talks, there was a closing talk giving the credits to everyone involved and thanking everyone for this great conference, but also giving away Ubuntu CDs, Nokia 770s, Dreamworks' stuff. I want to take the opportunity to thank the GUADEC team, Stuttgart region people who helped, all the others that have made this possible and all the people who were there creating the great atmosphere.
Walking back though the Youth Hostel we noticed that they had actually pulled the plug of the big pond in the "Schloss garten"!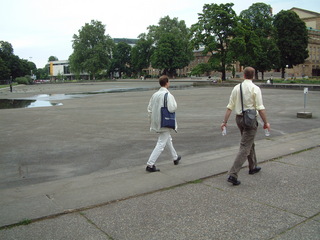 We left by car around 18:30, stopped near Pforzheim for a bite and got home around 1:30. I had a great mini vacation… on to GUADEC 7!
See also the GUADEC 2005 Photo Gallery of Tuesday.
---
---
Published
Category
Tags
Navigation
Profiles
Other Links
Syndication