Grandma 80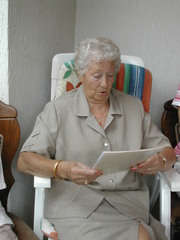 My grandma turned 80 today! I hope to reach that age someday, until then a lot of stuff to do and learn.
Gefeliciteerd oma! En nog vele jaren…
Exams and holiday
It is time for the final run. The coming two weeks are the exam weeks. However, for me, most of the past trimester's subjects grading is done by means of assignments, so that makes the holiday very near. :)
This year's holiday seems to be filled with work (on Spacelabs? on Google's Summer of Code?) and catching up with left-over subjects. I still got some assignments that I have to finish that I have kept postponing from the beginning of this academic year. Oh well, let's see how far I get….
---
---
Navigation
Profiles
Other Links
Syndication