Exploring The Campus
I wasn't able to do anything meaningful the first days of my stay. On Friday I had a meeting with Fairouz Kamareddine to talk about what I should do in preparation of my assignment (which will be fully determined next Friday) and what the team is already working on with respect to MathLang.
Shopping
In the weekend I went shopping in a large supermarket (the here infamous ASDA) together with Xiaobin, one of the Chinese guys I live with. I hadn't realised until that moment that I had to buy some stuff I already had at home, just so that I could drink and eat: mugs, pans, bins, glasses, forks, knives… I hope somehow that I am able to take it home with me, it wasn't exactly very cheap.
After the shopping frenzy we went to the city centre together which was very busy with people shopping for Christmas. I bought a second power plug converter (type C to G) so I don't have to leave all my stuff in my room unplugged just so that I can power my laptop at the university and have to set the time on my alarm clock when I return home.
Walking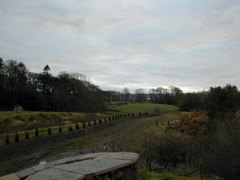 On Sunday I cleaned up and rested a bit. During the afternoon I got a bit cold and went out for a large walk around and over the campus. During the walk I've made some pictures which are available on my Edinburgh album, which I hope to keep filling with pictures the next few months. I'll probably have to split it up and improve the gallery, but this is what I have for now.
Cycling
Since I have arrived I haven't seen any bicycles! Zero, zip, nada! People either walk or take the bus. I sure am going to miss cycling. Even if I can get my hands on a bike, it's probably not safe to use it since the entire traffic system here is not accustomed to take you into account riding on such a thing.
---
---
Published
Category
Tags
Navigation
Profiles
Other Links
Syndication