Exploring By Bike
To complement my survival gear I bought a bike last Saturday. I have already noticed it gives me more freedom than just using public transport here and I just can not live without cycling. In the heart of Edinburgh, in the catacombs of the Waverly station one can find the Bike Station. This is a place kept by volunteers that takes in and recycles bikes, patches them up and resells them again. On certain days you can also take your bike there and use their tools and assistance to fix it. I find this and the way they are promoting cycling in the area a great initiative (and believe me, it is really necessary)! So I bought the cheapest second-hand bike they had: a 15-gear mountain bike without any features. This is of course because I will only be here for two months and it works just fine.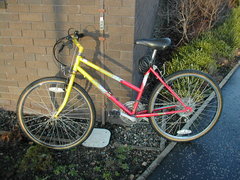 There is a route from the city centre almost straight to the campus alongside the Union Canal (10km long route). It brings you through different kinds of nature but also different looking parts of Edinburgh.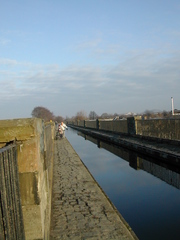 Half-way on the trip back I cycled over the Slateford Aqueduct which is really narrow. It's almost impossible for two people with bikes to pass one and another when going in opposite directions. Besides that, the aqueduct is quite long, high and gives a nice view over Slateford.
On Sunday I took the scenic route from the campus to Balerno and then to the city centre. There I tried to reach Arthur's Seat in Hollyrood Park, but I took a wrong turn and had no energy to go all the way down and up again. So I turned around and cycled back using the Union Canal route. All and all it was a nice trip, about 40km long and I still can feel my bottom and muscles after 6 weeks of no cycling at all. Pictures of this trip are available on my Edinburgh album (photo 101 until 121).
Technical
On a more technical note, we have been moving from CVS to Subversion at work. This is nice because it allows us to do a good repository restructuring. Also did it give me the opportunity to try out SVK, which I've found to work well. It allows me to stay in the familiar CVS/Subversion world while not having to dive into whole new systems or command interfaces for which, at the moment, I do not have the time nor feel the need.
I hope I can help Florian Ragwitz with svk-buildpackage, because I now still need a Subversion check-out next to my SVK local branch just to build packages. By means of this combination I've just been able to build and upload 5 new Ruby libraries (under Debian/Ruby Extras' team maintenance): libbreakpoint-ruby, libcairo-ruby, libcmd-ruby (oops, it seems I've forgotten to file the ITP?), libdaemonize-ruby and libsvg-ruby.
---
---
Published
Category
Tags
Navigation
Profiles
Other Links
Syndication